At East Durham College, we take pride in providing top-notch facilities for our students. Our sports centre and gym are no exception. Whether you're enrolled in one of our exciting sports courses or just looking to stay fit, our gym and sports facilities are open to all.
We're conveniently located near the A19 in Peterlee, and our sports hall is available for hire for events. You can also join our fitness classes or work out in the gym with high-quality equipment.
Our Sports Centre & Impact Health & Fitness gym is the perfect place to stay active, have fun, and meet your fitness goals. Best of all, college students can enjoy all of our facilities for free, with just a one-time induction fee of £5.
Join Impact Health and Fitness
Are you interested in joining our gym?
You can book your induction and view more details about our facilities using the Clubright app, available as a free download on the Google Play and App Stores.
Click here to join the gym and book yourself in for an induction on Clubright >> 
Or for more information, please contact the Impact Health & Fitness team on 0191 518 8310 or email impact@eastdurham.ac.uk
First Class Staff
Our team of highly qualified training instructors provide complementary inductions, fitness testing and personal training programmes - designed to suit your individual needs, frame, build and body composition. The team's aim here is to help promote 'Health & Well-being' in order to encourage you to participate in physical activity, which will develop your fitness and more importantly improve your health.
Our integrated training programmes will teach you how to implement all components of health and fitness, including:
Weight management
Flexibility training
Cardiovascular training
Resistance and free weights training
You will receive continuous support from our professional staff, helping you to monitor your fitness levels – ensuring you achieve your goals.
Impact Health & Fitness Facilities
Impact Health & Fitness offers a first-class training facility and provides a personal, practical and enjoyable approach to fitness.
The fitness suite includes an extensive range of cardiovascular and weight training equipment. All the equipment is supplied by SportsArt Fitness, a market leader in the design and manufacture of innovative and high quality fitness equipment.
Fully-equipped, air-conditioned fitness suite
Treadmills, Rowers, Cross Trainers, Steppers, Recumbent and Upright Exercise Bikes, X Trainer Bike and Power Plate
A range of resistance training machines
A free weights area with up to 25kg plates and dumbbells up to 45kg
Health and safety is regarded as paramount in our facilities, therefore, we really are dedicated to ensuring the facilities and equipment are all maintained to the highest standards.
Membership Rates - Direct Debit Option
Gym Only Membership: £25.00/month
Gym & Classes Membership: £33.00/month
Membership Rates - Pay As You Go Option
Gym Only: £4.00/day, £30.00/month
Class Only: £3.00/class, £15.00/month
Aged 14-15 Gym Only: £15.00/month
Corporate Membership packages are also available, tailored to meet individual business needs. Return to Work packages also available.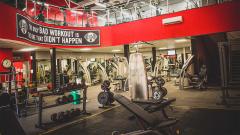 Classes at Impact Health and Fitness
We run regular fitness classes throughout the week at Impact Health & Fitness.
Classes are currently £3 per session, or £15 for a monthly class pass where you can go to as many classes as you like.
The following is our current class timetable:
| Class/Date | Time |
| --- | --- |
| Monday |   |
| Spin Class | 5:30-6PM |
| Circuits | 6:00-6:45PM |
| Tuesday |   |
| Boxercise | 6:00-6:45PM |
| Wednesday |   |
| Spin Class | 5:30-6:00PM |
| Kettlebells (Bars & Bells) | 6:00-6:30PM |
| Thursday |   |
| StepHIIT (Legs, Bums & Tums) | 6:00-6:30PM |
| Friday |   |
| Spin Class | 5:00-5:30PM |
| Saturday |   |
| Spin Class | 9:30-10:00AM |
Exercise Studio Per hour £15.00
Sports Hall
Our sports centre has a purpose-built double sports hall, with the ability to transform into a 500 seater venue for sports events, basketball, football and boxing.
The sports hall is available for hire for external events.
Sports Hall Hire
Monday - Friday
Per court/ per hour £35.00
Exercise Studio Per hour £15.00
Weekends
Per court/ per hour £25.00
Outdoor Facilities
The state-of-the-art all-weather 3G pitch perfectly caters for 11-a-side and 7-a-side games, as well as rugby.
All Weather 3G Pitch
Monday - Friday
7-a-side/per hour £50.00
11-a-side/per hour £100
Weekends
7-a-side/per hour  £40
11-a-side/per hour £80
To make a booking or for more information, please contact the Impact Health & Fitness team on 0191 518 8310 or email impact@eastdurham.ac.uk