Darren Holloway, Head Coach - Football
UEFA 'B' Licence Qualified Coach, Darren is a former professional footballer having played for Sunderland AFC, Wimbledon FC, Bradford City AFC & Darlington FC amongst others. Darren has previously had experience working as a coach at  Hartlepool United FC Academy & Middlesbrough FC Academy, currently Darren is Assistant Manager at Darlington FC. Darren's career highlight as a player was representing England at U21's level & playing in the Premier League.
Gustavo Di Lella, Football Coach
UEFA 'A' Licence Qualified Coach, Gus is a former professional footballer having previously played for Darlington FC & Hartlepool United FC. Vastly experienced Gus has also previously been a coach at Hartlepool United FC Academy before joining EDC to coach/manage our Men's 1 squad.
Ian Raine, Football Coach
UEFA 'A' Licence Qualified Coach, Ian has over 35 years of coaching experience and is enjoying his second spell of coaching here at EDC. Ian was previously a coach at Hartlepool United FC Academy whilst also working for the Football Association. Currently Ian is a coach at Spennymoor Town FC Academy.
Jack Slatcher, Football Coach
UEFA 'B' Licence Qualified Coach, Jack is a graduate from our very own academy here at EDC. Jack played football whilst studying on a sports course before attending Durham University where he gained his Sports Degree to enable him to become a Sports Lecturer here at EDC whilst also coaching our Women's squad.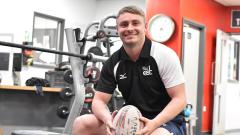 Jake Rodgers - Rugby Coach
Jake has played rugby since the age of 6. Through the ages of 15-18 he was in the Newcastle Falcons Academy, as well as captaining Northumberland County in various age groups. Currently he plays at Tynedale RFC in National 2 North- tier 4 of English rugby. Jake has previously coached  at Northumbria University and Newcastle Falcons DPP.  Jake most notably become the youngest ever Head Coach in Allianz Premiership history (top tier of Women's Rugby Union in the World) when he coached Darlington Mowden Park Durham Sharks.   
David Binns, Head Coach - Boxing
East Durham College certainly has something to be proud of when it comes to finding top class coaching staff. And boxing is no exception. David Binns, Head of Boxing at the College, has proven to be one-in-a-million, with no end to his list of achievements, whether that's working with complete amateur beginners or right up to professional boxers. David, born and bred in Keighley, West Yorkshire, came to the College in 2002 to head up our well established boxing academy and, through his dedication and considerable effort – working morning, noon and night – the sport of boxing has become a huge part of not only College life but also community life, for people of all ages within the Peterlee and Easington area.
David is not only passing on his knowledge and expertise to student athletes but also works with, as well as assessing, other coaches across the country. David is one of the most highly qualified and respected coaches within the sport. Not only does he head up the academy here at the College, he also has a leading role with the Tyne, Tees & Wear ABA and England ABA squads' training programmes.
The College and the District of Easington really have become a hotbed for boxing, with a complete grass roots infrastructure and fantastic facilities at the College's Boxing Gym, and much of this is due to the hard work and coaching skill of one man – David Binns.
David Wylie, Head Coach, Basketball
David played US college basketball and has extensive coaching experience.
Nadene Frost, Dance
Nadene originally studied at East Durham College and then Sunderland University in Performing Arts. She has performed in a huge range of productions and has a real passion for dance.
Physiotherapists
We have a wide range of physiotherapeutic equipment including ultrasound, laser and shortwave therapy machines for the treatment of soft tissue injuries and a comprehensive range of rehabilitation equipment. We recognise that success on the pitch, court, stage or in the ring depends upon fit and healthy student athletes and we therefore believe it is vital to provide an on-site physiotherapy service. This on-site service helps ensure injuries are assessed and treated quickly and effectively. This minimises time out and optimises recovery time. As well as rapid treatment of acute injuries we provide students with injury prevention advice and strategies. Injured students also benefit from individually designed rehabilitation programmes, tailored to include appropriate sport specific activities. We also deliver post-operative rehabilitation, where necessary, working closely with surgeons and other physiotherapists.